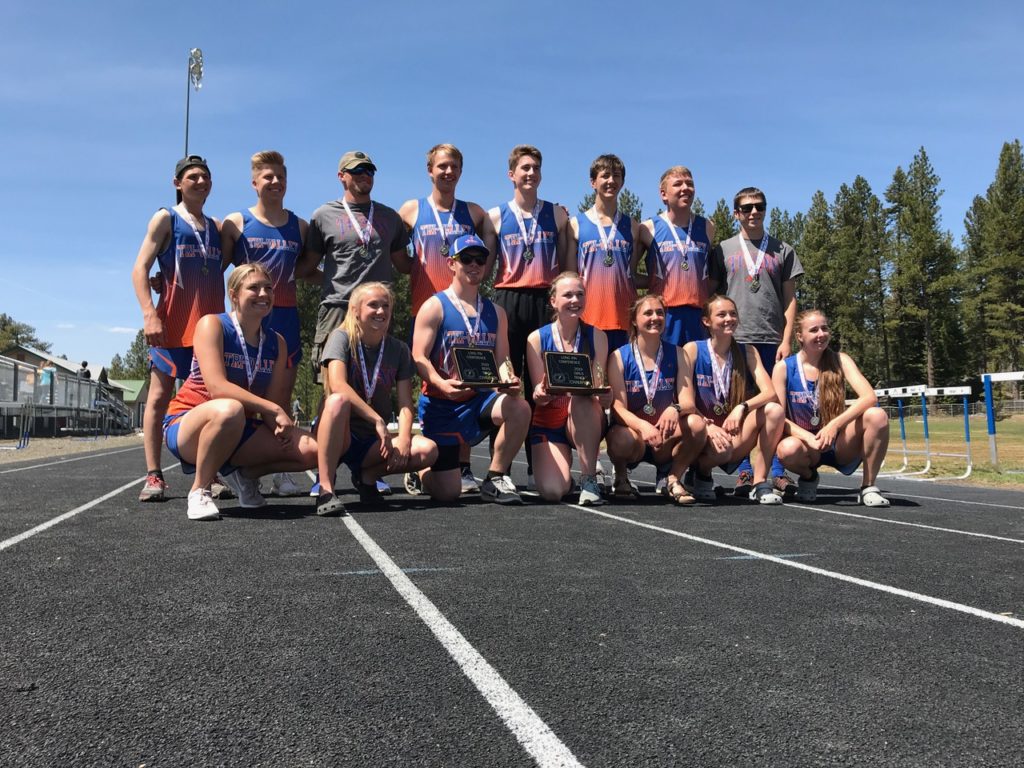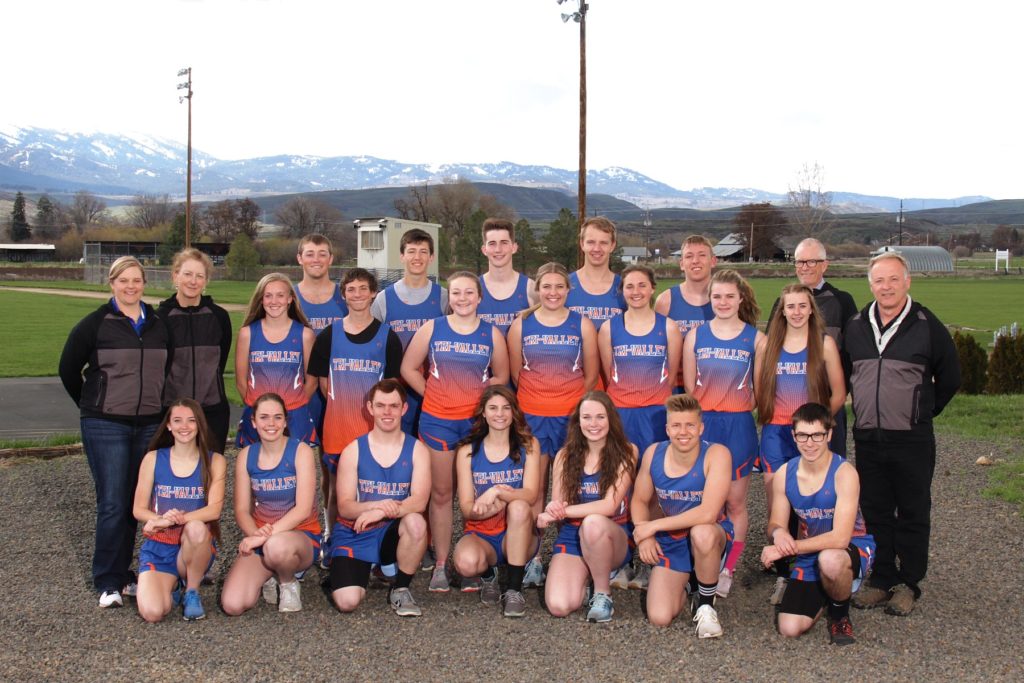 Boys & Girls Dominate Long Pin Track Championship
By:  Bob McMichaels
On a bluebird Saturday in McCall, the Titan Boys and Girls once again dominated the Long Pin Track Championships. The boys, despite a relatively thin team this year, scored 138 points; second place Cascade scored 75. The girls team, with an injured Grace Ertel (who toughed out her events nonetheless) and missing consistent high-points-earner Ashlyn Gerlock (taking the SAT), scored 151 points to second place Cascade's 122. Coach Marcy Hansen's experience and event entry savvy helped secure the championship, but the athletes themselves did the work and got it done.
Highlights of the meet for the boys include: Josh Conway-Lee converting from the sprints to the brutal 800 and 1600 races for the first time, and finishing both with respectable times despite having no idea what he'd gotten himself into; Timon Bode getting PR's in the shot and discus (the latter by 11 feet!); Colt Uhlenkott dominating the pole vault once again; an entertaining Nate Kindall PR in the high jump; and Josh Conway-Lee earning a PR in the long jump by more than a foot.
Girls highlights include: Emma Hollon's PR in the 400; Larissa Hansen's PR in the 800 (establishing a trademark kick that would make any runner envious); another high jump win for Lauryn Mitchell; a PR for Beth Gladhart in the pole vault; Morgan Wood's PR in the triple-jump; and Zoe Ertel winning the triple-jump with a ridiculous PR by more than two feet (!), despite having survived a collision between her cranium and the near standard in the high jump one week ago at the St. Al's Invitational in Ontario (a freak occurrence probably never before and hopefully never again seen), spending a sleepless week in Oklahoma City, and missing an entire week of practice.
The coaches are proud of all 18 Titan track athletes and their dedication and perseverance to win this championship once again. We often talk about what these kids could accomplish if they had the kind of facility some of the bigger teams have, like a track they can train on the entire season (or even a track that's actually 400 meters), or pits to jump safely into. Still, they're a force to be reckoned with. Just ask any of the dedicated parents and the two CHS students who witnessed the event on Saturday.
Please come support this inspiring team next week at the District Championships at New Plymouth High School on Friday and Saturday, May 10th and 11th. Friday's field event qualifiers begin at noon, with running events at 3:00. Saturday's final field events begin at 9:00, with running events at 11:45.
Titan
Track
Coach:  Marcy Hansen
Assistant Coaches:  Bob McMichale and Rich Hollon