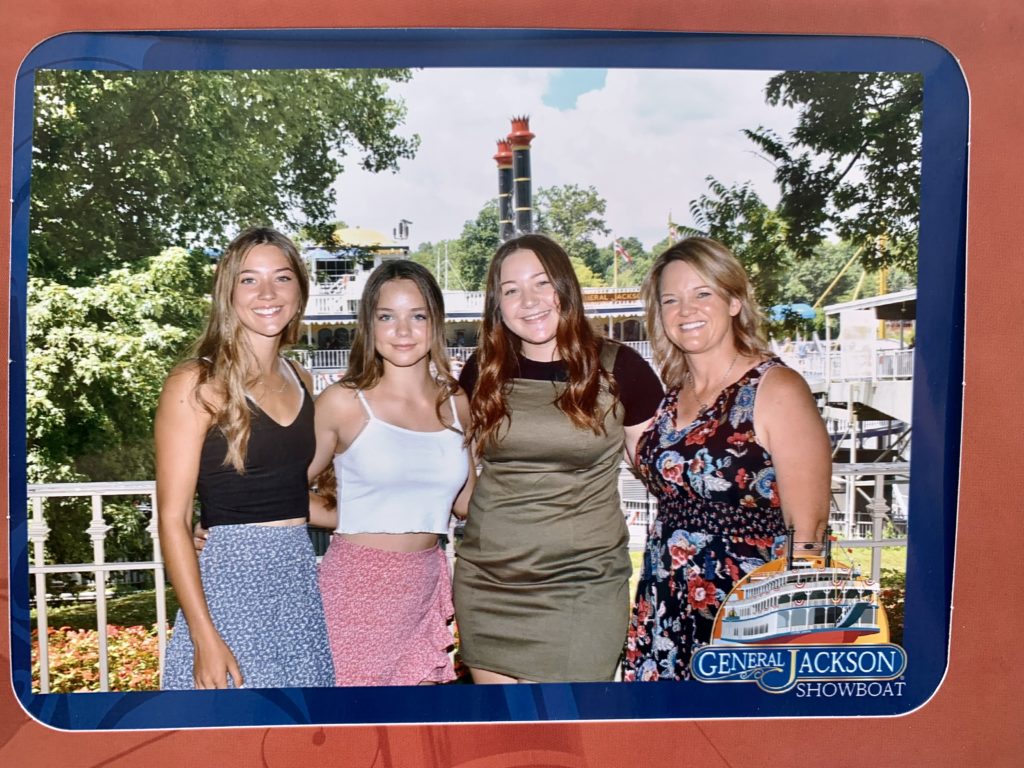 Blazing the Trail: Midvale FCCLC Students Attend National Leadership Conference in Nashville
NASHVILLE, TN
–
Trading in face masks for red blazers, more than 3,500 students from around the country got a taste of normalcy at Family, Career and Community Leaders of America's (FCCLA) National Leadership Conference, June 27- July 2, 2021. FCCLA's student members were reunited in person to participate in professional development opportunities, career exploration, and youth leadership sessions aimed at advancing families, careers, and communities through Family and Consumer Sciences education. Of the eight national Career and Technical Student Organizations (CTSOs), FCCLA is the only organization to host an in-person leadership conference this summer. 
Midvale FCCLA members Lauryn Mitchell, Amanda Uhlenkott, and Jessie Cantrell attended Nationals, which they qualified for by receiving top scores in their events at the state level. While attending Nationals, they were presented with medals for their competitions at the National level. Jessie Cantrell received silver for her project in National Programs in Action-Level 2. Amanda Uhlenkott and Lauryn Mitchell received gold and the national first place award for their project in National Programs in Action-Level 3.  For their top placing, both Amanda and Lauryn were awarded with a $50,000 tuition scholarship to attend Sullivan University. 
While at the conference, Amanda and Lauryn participated in the AAFCS Personal and Family Finance exam. They were able to test their knowledge after completing a personal finance class at MHS last semester. They each successfully passed the assessment and earned the industry recognized AAFCS Pre-Professional Certification. 
Other highlights from the trip included an evening at the Grand Ole Opry,  lunch and music cruise on the General Jackson Steamboat, a tour of the National Museum of African American Music, and a zipline adventure through the Tennessee forest.
These young leaders worked diligently on their community focused projects throughout the year. They are deserving of the awards and the opportunity to attend the conference to represent the Midvale FCCLA Chapter.
FCCLA
Family, Career, and Community Leaders of America
About FCCLA
FCCLA is a national Career and Technical Student Organization (CTSO) that provides personal growth, leadership development, and career preparation opportunities for students in FACS education. It is the only in-school national student organization with the family as its central core.
FCCLA is an integral part of FACS education and an essential element in a complete FACS program.
FCCLA positions young people to develop the knowledge, attitudes, and skills to be strong family members, wage earners, and community leaders. It prepares leaders by empowering youth to address the real-life situations and issues that interest and concern them.
Engaged in meaningful, student-directed projects, FCCLA members develop skills for life through character development, creative and critical thinking, interpersonal communication, practical knowledge, and career preparation. In the process, they learn cooperation, take responsibility, develop leadership, and give service.
Celebrating its 70th anniversary in 2015, FCCLA has more than 200,000 members and over 5,500 chapters in 49 states as well as in the Virgin Islands and Puerto Rico.
FCCLA National Programs
FCCLA has eight national programs, which help youth to:
Make a positive difference for themselves, their families and communities;
Learn skills like communication, leadership, cooperation and sharing, coping with challenges, and taking responsibility for decisions and choices;
Identify concerns, set goals, plan, act, and follow up;
Use their enthusiasm, explore new ideas, and show that they care;
Leadership
Model good character
Solve problems
Foster positive relationships
Manage conflict
Build teams and involve community
Educate peers