Midvale FCCLA Brings Home the Hardware at 2022
National Competition
By Isabelle Eppich

Five Midvale FCCLA (Family, Career, and Community Leaders of America) members
competed at the national level in San Diego, California during the span of the 2022 National
Leadership Conference June 29th through July 3rd. Students competed in four different STAR
(Students Taking Action with Recognition) Events with one member, Amanda Uhlenkott, placing
among the top ten competitors in the nation.
Uhlenkott competed in the Chapter in Review Portfolio competition, where she talked
about everything Midvale FCCLA accomplished in the past year. "Our chapter had a lot of
improvements this year, but I would say that membership involvement was the biggest," stated
Uhlenkott, who just graduated. "For example, we had more people participating in competitive
events, and we did a few extra membership campaigns, like our pizza party at the beginning of
the school year, our FCCLA Christmas party, etc. Seeing members wanting to be involved in
those types of things was super rewarding for me just because that's what my project was
about." In fact, out of Midvale's 72 6-12th grade students, 31 of them were involved in the
school's FCCLA chapter this year.
Advisor Deah LaFollette was impressed with her students' dedication to their projects. "I
have a young group of students coming up, and I'm just proud of them for working hard and
trusting me to help them learn what FCCLA has to offer," she noted. "As for my senior, Amanda
Uhlenkott, I'm just happy she was able to end her FCCLA years on a high note by making the
top ten. She put in a lot of hard work to get here."
But, Uhlenkott says that her chapter deserves most of the credit for the success of her
project. "Really, I was reflecting on our chapter, and our chapter is amazing, so I feel like I'm not
the one who got myself here," she emphasized. Basically, Uhlenkott thinks Midvale FCCLA
speaks for itself. "For instance, one of the community service projects we did was hosting a
community blood drive. At our drive this year, we collected 46 units of blood, which will impact
up to 138 people in need." And, that was only one of the chapter projects Midvale took on this
year. But, with Uhlenkott as chapter president, it's pretty hard to say that she didn't have a huge
role in them.
However, the National Leadership Conference involved far more than competition.
Midvale students were able to swim at the beach, explore the San Diego Zoo, and travel to the
nearby island of Coronado. But, that wasn't all. "I got to meet a lot of cool people," mentioned
incoming sophomore Danner Morris. "I liked all of the navy ships here too. I'm a history nerd, I
like to learn about world wars, and I think these ships are really cool." In fact, with the U.S.
Pacific Fleet in San Diego, the city is likely one of best places in the world to learn about navy
ships.
Uhlenkott enjoyed a few other aspects of the conference. "I liked making new friends,
and I'm the only one in our chapter that's been to a national leadership conference before," she
remarked. "Because of that, I've really enjoyed standing back and watching all of the new
members because that relates back to my project about wanting to increase our involvement."
Finally, Uhlenkott liked that the Pacific Ocean was so close.
And it's because of these experiences that LaFollette thinks students should join
FCCLA. "Midvale has limited options on leadership activities, and I just think FCCLA is a great
way for students to grow in their leadership role, see new places, meet new people, and just
have those opportunities that students from other areas get," she said.
Overall, Midvale's students are excited about how far their chapter has come. "Our
chapter has always been fairly strong, but these past few years it's been dying a little bit
because Covid hit, and the only people that were really still in FCCLA were the people that had
been in FCCLA for years," Uhlenkott said. "I was a little bit worried about leaving because I felt
like our chapter would dwindle away, but our involvement in everything increased a lot this
year." And, now, Uhlenkott isn't worried at all."We had a lot of students wanting to step up into
leadership roles. I'm pretty proud of the way that I reached out to other students at my school
and encouraged them to be involved in FCCLA because now, our chapter is a lot stronger this
year," she concluded. "I think that it will maintain that after I leave, and I will be proud of
watching how it continues to grow."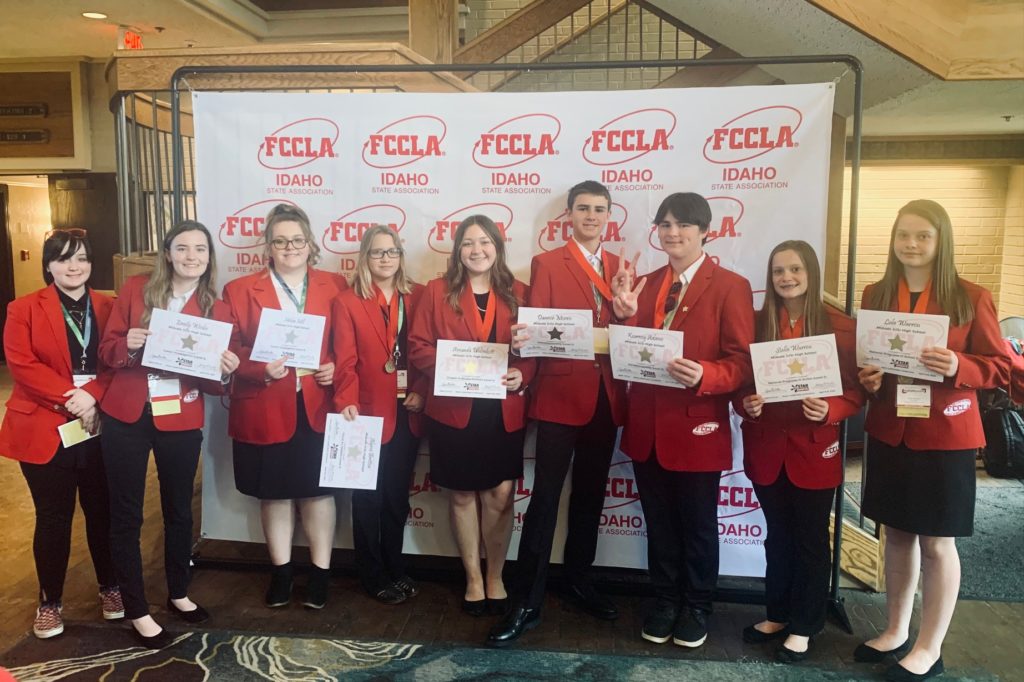 FCCLA shines at state with 6 top gold and a one participant with a perfect 100 pt. score!! Those qualifying for Nationals are headed to San Diego in late June!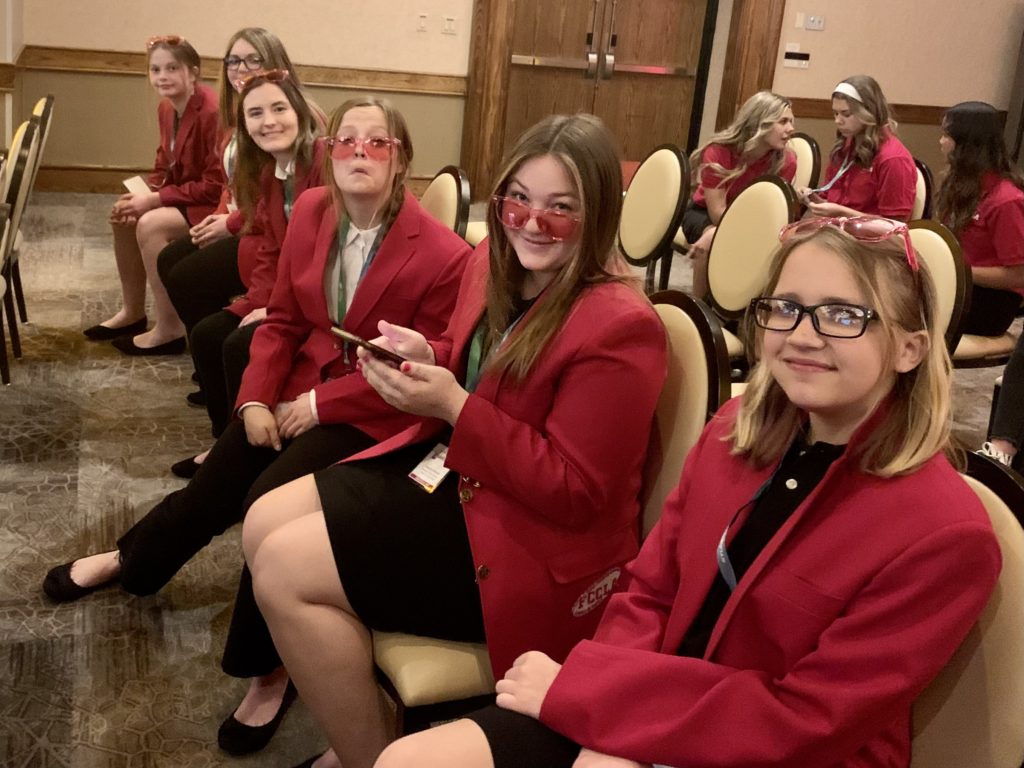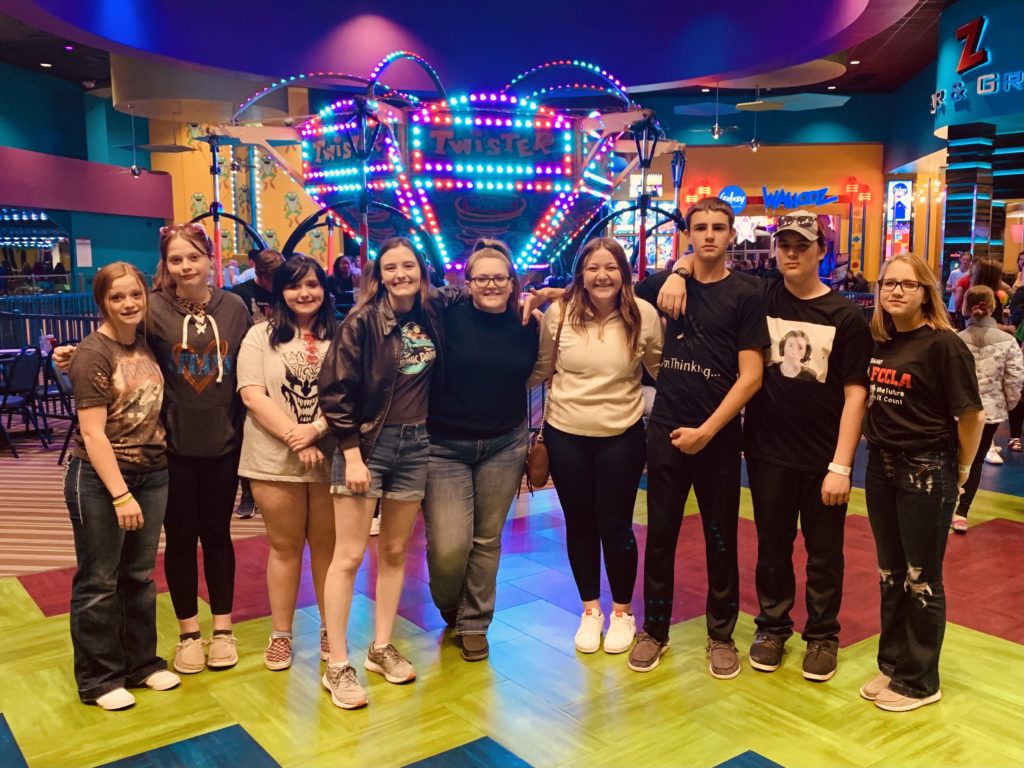 Amanda Uhlenkott – Chapter In Review Portfolio – Project Title: "Making it Count – Midvale FCCLA" This project is focused on developing and implementing a program of work for the chapter. Amanda had to identify concerns, set goals, and form a plan for our chapter during the school year. Her main goal was to increase involvement in a few different areas and she made plans for various membership campaigns, leadership activities, community service activities, several fundraisers to finance chapter trips and projects, as well as increased publicity and recognition for our chapter and its members. Midvale FCCLA had many accomplishments this
year and is working harder than ever to make this year count! Amanda received a perfect score at State for her project. What a great way to end her last year in FCCLA before graduating this Spring!
Kearney Adams & Danner Morris – Entrepreneurship This team developed a plan for a new small business, Trust Technologies. They prepared a portfolio containing a detailed business plan for a company that provides IT services, custom computer builds, and computer repair services. Kearney and Danner also formed a new computer technology club at MHS and have been refurbishing donated computers and selling them to raise money to fund future projects.
Stella Warren – National Programs in Action/Student Body Stella's project, "To be Healthy as a Whole, Mental Wellness Plays a Role" was a national peer education program that empowers teens to maintain positive mental health. Through her project, she provided tips to her peers on dealing with stress, planned activities that encourage positivity and kindness, and organized a school assembly with motivational speaker Cory Greenwood.
Alyssa Britton – Focus on Children is an event that recognizes members who use Family and Consumer Sciences skills to plan and conduct a child development project that has a positive impact on children and the community. Alyssa focused her project, "Today a Reader, Tomorrow a Leader" on bringing awareness of the importance of early childhood reading. She spent time each week reading to Midvale elementary school students, held a book drive, and raised over $1,000
through donations and fundraising to purchase new books for the classrooms and school library.
Lola Warren – National Programs in Action/Stand UP This national peer education program guides members to develop, plan, carry out and evaluate advocacy activities to improve the quality of life in their school and community. Lola focused her project on bringing awareness to the growing issue of vaping in teens and the health dangers associated with vaping. She partnered with the Washington County Sheriff's office to hold a vape prevention and decision-making assembly for her peers. She also presented to younger students and encouraged them to make
good decisions for their future and "Escape the Vape".
FCCLA
Family, Career, and Community Leaders of America
About FCCLA
FCCLA is a national Career and Technical Student Organization (CTSO) that provides personal growth, leadership development, and career preparation opportunities for students in FACS education. It is the only in-school national student organization with the family as its central core.
FCCLA is an integral part of FACS education and an essential element in a complete FACS program.
FCCLA positions young people to develop the knowledge, attitudes, and skills to be strong family members, wage earners, and community leaders. It prepares leaders by empowering youth to address the real-life situations and issues that interest and concern them.
Engaged in meaningful, student-directed projects, FCCLA members develop skills for life through character development, creative and critical thinking, interpersonal communication, practical knowledge, and career preparation. In the process, they learn cooperation, take responsibility, develop leadership, and give service.
Celebrating its 70th anniversary in 2015, FCCLA has more than 200,000 members and over 5,500 chapters in 49 states as well as in the Virgin Islands and Puerto Rico.
FCCLA National Programs
FCCLA has eight national programs, which help youth to:
Make a positive difference for themselves, their families and communities;
Learn skills like communication, leadership, cooperation and sharing, coping with challenges, and taking responsibility for decisions and choices;
Identify concerns, set goals, plan, act, and follow up;
Use their enthusiasm, explore new ideas, and show that they care;
Leadership
Model good character
Solve problems
Foster positive relationships
Manage conflict
Build teams and involve community
Educate peers